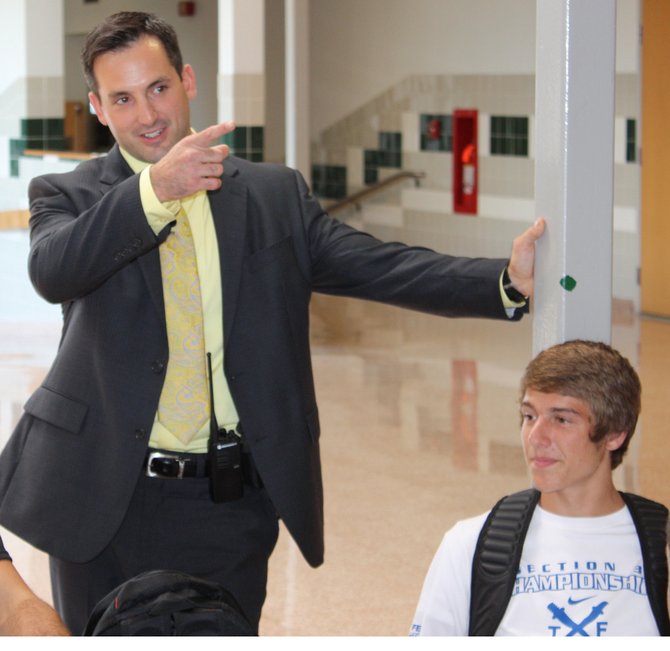 continued — It's not always easy to get students to open up to police officers, but Officer Lesperance is different. For the most part, he walks the halls of F-M High School, where he is stationed, in a suit and tie, talking to students and counseling them or their parents if bullying occurs.
"He received training, prior to coming to the position, that was specific to school information and resource officership," Kaiser said.
Though he is housed in the high school, he also is involved in the other five schools in the district.
"He reached out, very nicely, in the first weeks of school, to let students know who he was, what he could do, and he had a very pleasant and pleasing personality so that the kids are attracted to speaking with him," Kaiser said. "They feel very, very comfortable to open up to him. His door is open."
His phone line is also open to parents, and while he helps many people directly, he maintains a steady flow of communication between himself and the principals.
Officer Ben's physical presence isn't enough to deal with a new type of bullying. According to The New York Times, kids ages 8 to 18 spend about eight hours a day using electronic devices. Cyber-bullying is a nationwide issue, and is specifically addressed in The Dignity Act.
"Most frequently what we see is that students use the Internet outside of school, actually," Kaiser said. She created a help line to tend those being hurt.
Ironically, computers are being used to stop bullying as well. The updated F-M website boasts a hard to miss stop sign that reads "Stop Bullying." This new "Bully Button" follows the legislation's requirement for schools to provide an anonymous way to report bullying.
"At times, students do not report because they feel that they might be intimidated by the bullier. The button is the anonymous way that students or families are able to report bullying," Kaiser said.
Vote on this Story by clicking on the Icon