New Woodstock — Ghost stories abound.
There are the classic tales which have been passed down, with motifs and stock characters and morals.
And then there are the legends, the "true" experiences that have happened to a local resident or to someone well-known.
There are also a number of community members who have had such a strange occurrence, or felt an unseen presence and know of someone who has told of someone else who had one.
At 7 p.m. Friday, Oct. 19, the New Woodstock Free Library will help the community get into the Halloween spirit with "True Ghost Stories" and children's activities.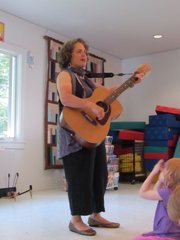 Robin Bady, an internationally known story teller who has performed for the Children's Summer Reading Program for the past two years, will return with True Ghost Stories for those are not faint of heart. After she is finished telling stories she will be collecting ghost stories from locals who wish to share.
For the children, there will be Halloween crafts and activities as well as refreshments. Parents can relax and enjoy the evening while the library takes care of their children.
"We are hoping for a great turnout. This is a new program for the library and we think it's a great way to let parents and older children enjoy some stories while the younger children are busy having fun," said Kelly Roberts, the youth services coordinator for the NWFL. "There is also a past technology exhibit going on through November that is very interesting and that will also be open during the evening."
This event, as well as all others at the NWFL, is free and open to the public. The library is open from 1 to 5 p.m. Monday through Friday, from 7 to 9 p.m. Monday and Wednesday and from 10 a.m. to 1 p.m. Saturdays.
To learn more, call 662-3134, visit midyork.org/newwoodstock or search the NWFL page on Facebook.
Vote on this Story by clicking on the Icon