Dr. John Griffin recently announced the addition of a new associate, Cazenovia resident Lawrence Cecchi, M.D., to his practice.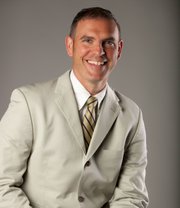 Cecchi is a 2003 graduate of Upstate Medical University, and specialized in ophthalmology at Geisinger Medical Center in Danville, Penn.
Since 2007, Cecchi had been in practice at Bassett Medical Center in Cooperstown.
While there, he was attending ophthalmologist and was the first doctor at Bassett to use cataract surgery innovations including correction of astigmatism and presbyopia.
He also spearheaded resident education as associate professor of clinical medicine, maintaining affiliations with Albany Medical Center as well as Columbia University.
"I am excited to serve the Central New York and greater Syracuse area," Cecchi said.
He currently practices at Griffin's office at the Madison-Irving building on Irving Avenue in Syracuse, as well as the EyeCare Center of Oneida.
Cecchi is currently accepting new patients at both locations.
Family is a large part of what brought him back to the area. His wife is from Skaneateles, and they currently reside in Cazenovia with their four children.
Cecchi is board-certified in ophthalmology and licensed to practice in New York state.
Besides cataract surgery, he is experienced in eyelid surgery, diagnosis and treatment of macular degeneration, glaucoma and rarer medical conditions affecting the eyes.
Griffin is a board-certified ophthalmologist and performs everything from eye exams to more advanced eye care services and cataract surgery. His main office is located on 475 Irving Ave. in Syracuse, and he also shares office space at 581 Main St, in Oneida.
For more information, visit drjgriffin.com.
Vote on this Story by clicking on the Icon