continued — An article in the Sept. 29, 1944, edition of the Eagle Bulletin addressed that Goodfellow was being treated for injuries in a hospital, but said no further details were given, adding: "The word came through a letter written by a buddy, who said Bill was unable to write because of an injury to his hand."
"My father never made the flight, and I didn't know that," Vester said. "But Erwin included my dad because it was his crew, it was all his friends, the guys he flew with. My dad had stories about each and every one of them."
Goodfellow was a mail carrier for the Fayetteville Post Office for 33 years, and raised three children — Sheila, Cheryl and William Goodfellow III — with his wife Pauline.
De Mooij would eventually find the name "Bill Goodfellow" in a newspaper article about young servicemen who fought in WWII. He then did what he always does when faced with a name and little more: wrote letters to as many people as he could find within the area whose last name was also "Goodfellow" and hoped for someone to respond.
"That someone was Sheila Vester," de Mooij said.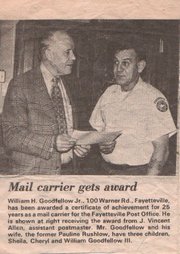 Vester called de Mooij after hearing from her uncle that de Mooij was investigating the plane crash, which before then she had heard nothing about. She grew up hearing stories about her dad's time as a B-17 gunner, but he never shared anything too graphic, she said.
"We didn't know anything about it," she said.
Vester's family was one of the last crew members' families de Mooij was able to track down.
"And how he got a hold of my uncle, I don't know," Vester said. "Because 'Goodfellow' is kind of a common name out this way. It's like 'Smith' anywhere else."
At the time, de Mooij hoped the families would teach him something about their fathers' time in WWII, and hoped to help them find eyewitnesses of the crash in order to provide them with information.
Vote on this Story by clicking on the Icon