SYRACUSE — A Syracuse woman has been charged with endangering the welfare of a child after allegedly locking her 3-year-old son in his bedroom for hours at a time with no access to a bathroom.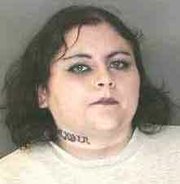 DeWitt Police charged Heather A. Lacey, 25, of 212 E James St., Syracuse, with second-degree unlawful imprisonment and endangering the welfare of a child on Oct. 3. Onondaga County Child Protective Services assisted in the investigation that led to the arrest.
Lacey would routinely lock her 3-year-old son in a bedroom for up to 22 hours a day unsupervised, DeWitt Police said. There was no bathroom connected to the bedroom, and the child was found hungry and unclean when Child Protective Services responded to a tip on Oct. 1, police said. The child's bed, floor and walls were covered in urine and fecal matter, police said.
Child Protective Services called in DeWitt Police for assistance and the boy was immediately removed from the home and placed in foster care, police said.

Lacey was arraigned in DeWitt Town Court and remanded to the Justice Center in lieu of $5,000 cash or bail bond. She is set to return to court Oct. 24.
Vote on this Story by clicking on the Icon