Baldwinsville — On behalf of the Board of Directors, staff and Ride for Missing Children planning committee, I would like to extend our deepest appreciation to all involved in making the Ride for Missing Children Syracuse 2012 a resounding success.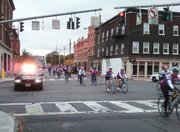 With 142 tenacious and dedicated bicycle riders, we hit the streets of Central New York for our 100-mile journey spreading messages of child safety, abduction prevention and sexual exploitation prevention to children, adults, parents, educators and the general public. We were fortunate to have many amazing supporters from our incredibly generous sponsors to our many wonderful volunteers who took care of the riders throughout the day.
We were led throughout the streets of the region by our angels in law enforcement from the NY State Police, Onondaga County Sheriff, Oswego County Sheriff, Syracuse and East Syracuse PD, Dewitt PD, Liverpool PD, Cicero PD, Baldwinsville Village PD and Phoenix PD.
As part of the ride, we provided 21 educational programs in 10 different schools and directly reached 4,472 children and adults with our critical child safety programs and educational material. And, of course, the most poignant part of the Ride for Missing Children Syracuse 2012 was our memorial stop at Our Lady of Peace Cemetery honoring the memory of Jenni-Lyn Watson. We extend a very special thank you and express our deepest gratitude to the Watson family for giving us the honor of joining us on this very special day.
We look forward to seeing everyone again in 2013.
Ed Suk is the executive director of NY's National Center for Missing & Exploited Children.
Vote on this Story by clicking on the Icon