Though not directly involving artists, The New Woodstock Public Library and the Pompey Historical Society will be open and marked as designated stops during the Art Trail.
The New Woodstock Library will be displaying an exhibit on Past Technology, and the Pompey Historical Society will be open to display the Perry Art Collection.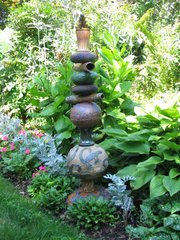 On the days of the Art Trail, all artists' locations will be marked with a sign along the road. Maps of the trail will available at Cazenovia Artisans in the village of Cazenovia, and online at art-trail.org.
Those who would like to visit all the artists may pick up a card at any stop on the trail.
Once all the stops have been stamped, the cards will be entered into a drawing for a $50 gift card.
The cards will also be good for a free pass to Critz Farms Fall Harvest Celebration on the same dates as the Art Trail.
All are encouraged to visit local studios and enjoy the unique beauty of Central New York in fall, while also getting to know art in the community.
For more information, visit art-trail.org or email arttrail@cacda.net.
Jennifer Wielt is public relations coordinator for the Cazenovia Art Trail. She can be reached at arttrail@cacda.net.
Vote on this Story by clicking on the Icon