Baldwinsville — Paul Dybas has joined the staff at Research and Marketing Strategies in Baldwinsville as a business development associate.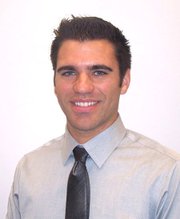 "Market research is my true passion," Dybas said, adding he did an internship at Lourdes Hospital in Binghamton, which happens to be a client of RMS. As a member of the Lourdes marketing and planning team, Dybas was invited to tour the RMS facility and meet some of the staff. "Through this interaction, I learned about RMS as a company as well as its culture. Most importantly, I found RMS to be a top quality market research facility – it was a great fit for me."
In his position, Dybas works with both prospects and existing customers to understand their marketing and research needs then assists in identifying the most appropriate research methodology before transitioning the client to the RMS Analytics department.
"I have a strong appreciation for personal interaction and look forward to working with clients, explaining how market research is a vital component to a successful business as well as all of the services RMS offers," Dybas said.
He also works with the business development team to build awareness about RMS and its services.
Dybas has a dual bachelor's degree in business administration and journalism with a concentration in market research. Dybas' ambition landed him four successful internships in the past two years where he gained valuable market research, business development and promotional experience.
Hailing from Binghamton, Dybas currently resides in Eastwood. In his free time, Dybas enjoys baseball, which he has played for 16 years, and playing the saxophone.
Research & Marketing Strategies is a full service marketing and market research firm located in Central New York. With a national focus, RMS offers business solutions using marketplace intelligence and industry knowledge and customizes every project to the needs of its clients. For more information, visit rmsresults.com.
Vote on this Story by clicking on the Icon