Baldwinsville — The annual Senior Citizen Holiday Luncheon, hosted by the Rotary Club of Baldwinsville, will be held Dec. 12 at St. Elizabeth Ann Seton Church on Route 31. The event is free and open to all seniors living in Baldwinsville, Van Buren and Lysander. Registration is required and the deadline for registration is Nov. 30. Call Canton Woods Senior Center (638-4536) or stop in to sign up with a completed registration form. Deliveries will be made available for homebound seniors who register in advance, but you must be home that day to accept the meal as club members cannot leave them unattended.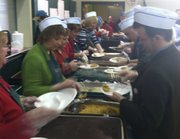 Seniors should plan to arrive at the luncheon around 11 a.m. so they can enjoy warm drinks and fellowship, while listening to the Durgee Middle School girls' choir sing a festive line-up starting at 11:30 a.m. Entertainment throughout the event will be provided by Joe Trionfero, as always, and expect a visit from Santa. A full turkey dinner with all the trimmings will be provided and served up by volunteers from both the Rotary Club and other local organizations.
The Rotary Club of Baldwinsville is part of a network of community service clubs that make up Rotary International. More than 33,000 clubs worldwide also host fundraisers and put the money back into their communities with programs like the Senior Citizen Holiday Luncheon.
The Rotary Club of Baldwsinville meets at 7 p.m. every Tuesday and at 12:15 p.m. every Wednesday at the First United Methodist Church of Baldwinsville on Charlotte Street. Anyone interested in learning more about Rotary is invited to attend a meeting.
Vote on this Story by clicking on the Icon