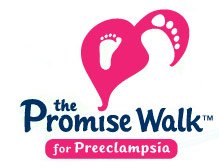 continued — Most women with preeclampsia will deliver a healthy baby and fully recover. However, some women will experience complications, several of which may be life-threatening to mother and/or baby. A woman's condition can go from a mild form of preeclampsia to severe preeclampsia very quickly. Preeclampsia and other hypertensive disorders of pregnancy can be devastating diseases, made worse by delays in diagnosis or management, seriously impacting or even killing both women and their babies before, during or after birth. Some women, like Lashway, struggle with hypertension for some time after giving birth.
"It took my body over a year to stabilize and recover," she said. "I was told that it will most likely happen again in subsequent pregnancies, and that I am now at a greater risk to develop heart disease."
Fortunately, both Lashway and her daughter did eventually recover. Laelyn suffered no lasting effects, and Lashway went on to have another healthy pregnancy without fully developing preeclampsia symptoms.
"I know that I am one of the lucky ones," Lashway said. "I feel so blessed, because I have seen how bad it could have been."
Now, Lashway is committed to raising awareness for other moms and families about preeclampsia. This spring, in conjunction with the Preeclampsia Foundation, she is coordinating the first-ever Syracuse Promise Walk at Onondaga Lake Park. The walk will take place on Saturday, June 1, 2013. Registration opens to the public on Jan. 1 at promisewalk.org/Syracuse, and costs $20 for adults and $10 for children 12 and under.
Lashway, who has lived in South Jersey for the last five years but is moving back to the Syracuse area in January with her husband and two children, said she attended her first Promise Walk in 2011 in Cranbury, N.J.
"I drove two hours to attend," she said. "When I learned that there was going to be a start-up walk in Cherry Hill, N.J. in May of 2012, I jumped on board as a volunteer to help get the walk off the ground. We knew that we going to be moving back to Syracuse, and I knew that this was my opportunity to make a difference. I chose Onondaga Lake Park because this is a family friendly event, and the perfect location for this walk to begin, and to grow."
Vote on this Story by clicking on the Icon