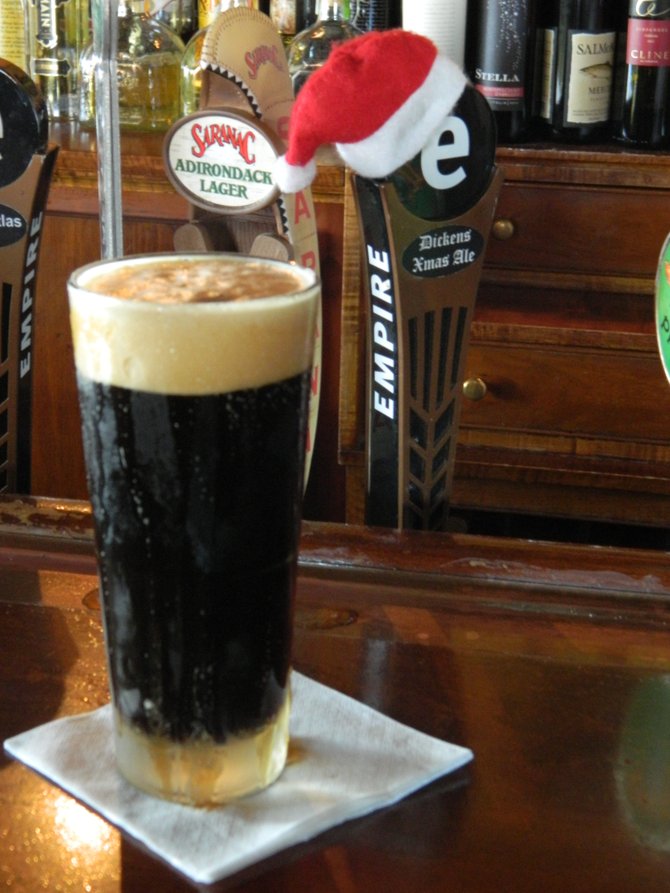 continued — Butler developed the ale recipe at the beginning of this year, and began fermenting the beer a few weeks ago, he said. "It's an eight-hour brew day with 14 hours in fermentation," Butler said.
Butler made two 220-gallon batches of Dickens' Christmas Ale, which is expected to last through Dec. 31, Mason said.
It will be available not only by the glass but by the growler (half gallon) as well, Mason said. He said the Sherwood has had so many requests for growlers either for patrons to take beer home or give it as a Christmas gift, they decided to make it available in that size. People can bring in their own growler to fill, but the Sherwood is also getting some in from Empire Brewing Company as well.
Also coming soon to the Sherwood Inn to accompany the new beer will be pint glasses with the Dickens' Christmas Ale logo, Mason said.
Originally, the logo glass – as seen in the advertisements for the beer – was not a real glass but a marketing image. So many people have asked to purchase the glass, however, that the Sherwood is currently in the process of making the glass, which they hope to have available for purchase by mid-December, Mason said.
Whether or not Dickens' Christmas Ale is available in future years will depend on how well it does this year, but it's looking god so far, Mason said.
"It's a great local product and that is one thing if there's a trend among our patrons – they're looking for local products. And with the theme of Dickens and the water from the lake – which is right across the streets – it's about as local as it gets," Mason said.
Jason Emerson is editor of the Skaneateles Press. He can be reached at editor@skaneatelespress.com.
Vote on this Story by clicking on the Icon