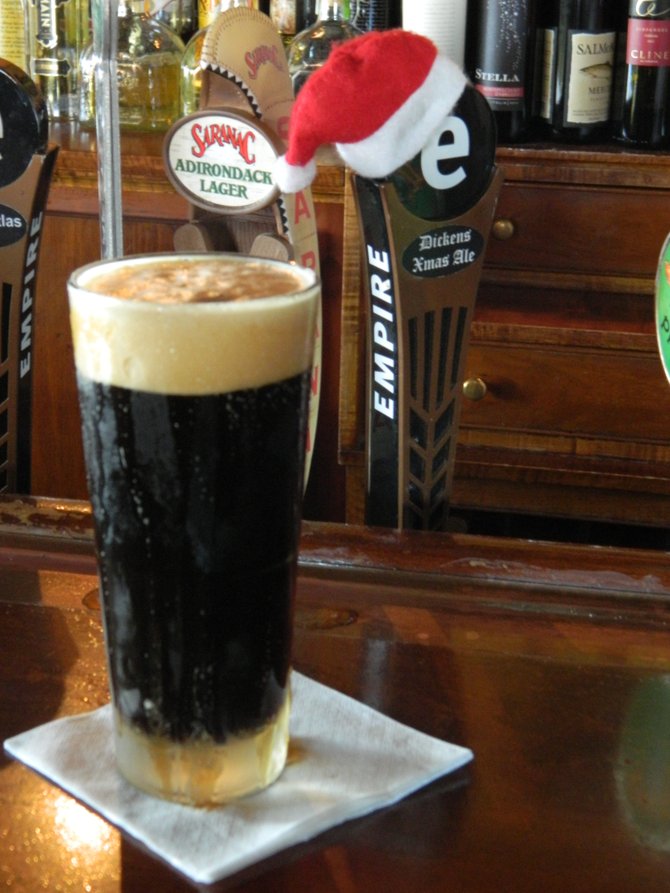 Skaneateles — Dickens Christmas in Skaneateles is famous throughout Central New York for its holiday revels and interesting shopping, and starting this year it will be known for another unique offering – beer.
The Sherwood Inn has teamed with the Syracuse-based Empire Brewing Company to create the new Dickens' Christmas Ale: a strong, dark Scottish-style ale, with flavors of cardamom and allspice, reminiscent of the beers drunk in the time of Dickens himself.
"It is historical in a sense. It's a dark beer, heavy in character with some spices they may have used back then," said Tim Butler, Empire Brewing Company brew master, who created the Dickens' Christmas Ale. "There's not a lot of beer-making records that survive from that time, but the beer was darker, stronger, with a smoky malt character, aged in oak."
The new Dickens' Christmas Ale is not aged in oak, but does have a smoky character, Butler said. It is also fortified to make it 7.5 percent alcohol by volume, versus the typical 4.5 percent of most beers today.
"I fortify it with alcohol because a winter ale tends to warm you up in cold weather," Butler said.
The Dickens' Christmas Ale is made in the Empire Brewing Company's Armory Square Brew-Pub from Skaneateles Lake water, and will be sold until the end of the year exclusively at the Sherwood Inn in Skaneateles.
The kickoff tasting event for the new beer was held the night of Sunday, Nov. 18, at the Sherwood Inn, hosted by Charles Dickens.
"It's been quite popular so far, we've already poured quite a bit," said Chuck Mason, assistant general manager of the Sherwood Inn. "It's been a lot of fun, and cool to see the excitement out there so far for this."
The owner and management came up with the idea for an exclusive holiday beer at the Sherwood Inn last year after the annual Dickens' Christmas events were ended, Mason said. They talked with Butler, who visits Skaneateles every holiday for the Dickens' events, "and he knew exactly what we were looking for," Mason said.
(Continued on Next Page)
Prev Next
Vote on this Story by clicking on the Icon