continued — The Cazenovia Lions Club announced it's pleased to honor O'Herien for his service to others and for setting a fine example for his fellow students.
October
Alicia Clarke, a sophomore at Cazenovia High School, has been selected as Cazenovia Lions Club Student of the Month for October 2012. Clarke is the daughter of Robin and James Clarke, of Cazenovia.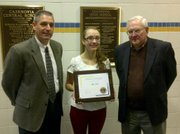 Clarke's nomination was submitted by Mandi Millen, a member of the Cazenovia High School Faculty.
"Alicia is a volunteer at From the Ground Up, a therapeutic riding facility, and volunteers at the Cazenovia Public Library. In addition, Alicia is a community service volunteer for a number of FFA activities," Millen said. "[Alicia is] incredibly polite and caring, enthusiastic and very hard-working, Alicia is a wonderful student to have in class. She was a member of the Agricultural Sales Team that took first place at the SUNY Cobleskill High School Day last Friday, and she is a member of the varsity girls tennis team."
The Cazenovia Lions Club announced it's pleased to honor Clarke for her service to the school and community.
Student of the month nominations can be made by students, school staff members, parents or community members. Nomination forms are available from the assistant principal's office at Cazenovia High School or from the Cazenovia Lions Club.
Vote on this Story by clicking on the Icon