Baldwinsville — On April 10, 2008, 24-year-old Gretchen Snedeker was driving through the city of Oneida when she was hit head on by a vehicle traveling at 55 mph. The driver, a mechanic whose license had been suspended seven times, survived. Gretchen did not.
She was rushed to the hospital and died four hours later, leaving just enough time for her parents, Jay and Kathy, to get to her and say goodbye. According to Kathy, the doctors said Gretchen was holding on for them to arrive.
It was determined the mechanic caused the accident; he was inspecting a vehicle while driving and took his eyes off the road to look under the dash when he collided with Gretchen. As a result, her parents received a settlement, which the couple has devoted to honoring their daughter.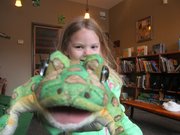 "We wanted all the money to go toward things that would really make her smile," Kathy said, noting the monies have been donated to creative arts, literacy, animal rescue, dressed for success and the Eastman School, where Gretchen was a standout student. "I think it's best to try and somehow make the best of that horrific situation. Insurance money doesn't replace a life, but if you give it some thought, you can direct it in an appropriate manner – you can use it to honor the life."
The Baldwinsville couple's most recent project has been Gretchen's Green Room, a children's room at Beaver Lake Nature Center where their daughter used to volunteer. The center has a special place in the Snedeker's hearts. In fact, the family held a memorial walk in Gretchen's honor at Beaver Lake a few weeks after her death.
"It's such an incredible natural resource – they have a passion for Mother Nature," Kathy said. "It's where we connect the most to her."
(Continued on Next Page)
Prev Next
Vote on this Story by clicking on the Icon