Cazenovia resident Jane Burrell-Uzcategui recently traveled to New York City to visit with her sister Anne Burrell, a celebrity chef on Food Network, and to cook some good food for a great cause.
The two native Cazenovians participated in the Food Network's "All-Star Family Cook-Off," competing against famous culinary artists like Alex Guarnaschelli, Robert Irvine and Geoffrey Zakarian, as well as their family members, for the chance to earn a $10,000 donation to charity.
Burrell-Uzcategui, a registered dietitian and nutrition instructor at Syracuse University, said she had cooked alongside Anne on a number of occasions, but never in front of television cameras on such a large scale. "I have to say I was quite nervous, but it turned out to be a lot of fun," she said. "It was a whole different type of cooking [from what] I was used to — in a big kitchen for the Food Network."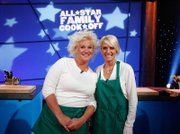 Hosted by Bobby Deen, the All-Star Family Cook-Off required each team to create a number of dishes together. Each round brought about a new challenge to the families, who were judged not only on their food, but teamwork, adaptability and communication as well.
Round by round, teams were eliminated, until only the Burrell sisters remained. The two women decided to give the money to their favorite charity, Juvenile Diabetes Research Foundation, in honor of their nephew Luke, Burrell-Uzcategui said.
The competition has already aired twice, but will be shown again at 4 p.m. on Nov. 24. For more information on the episode, visit foodnetwork.com.
Pierce Smith is editor of the Cazenovia Republican. He can be reached at 434-8889 ext. 338 or editor@cazenoviarepublican.com.
Vote on this Story by clicking on the Icon