Fayetteville — The Freedom of Espresso in Fayetteville is open for business after a small fire caused by beans roasting in the shop's oven.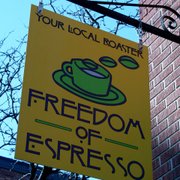 A Manlius police officer spotted smoke coming from the coffee shop at 128 W. Genesee St. at around 7:20 a.m. and called Fayetteville firefighters to the scene. They were able to keep the fire contained to the roasting oven.
Fayetteville Fire Chief Paul Hildreth told Syracuse.com that the fire was simply caused by beans roasting in an oven. He said the fire produced a lot of smoke, but no damage was done to the building. "It was pretty uneventful," he said.
A call to the Freedom of Espresso at 12:30 p.m. was answered by an employee, who said he had customers to attend to.
"As many of you know, we had a small fire at our Fayetville store this morning," Freedom of Espresso posted on Facebook at around noon. "The roaster is fine, we are open for business! We wanted to thank all the firemen for getting there so quickly and all of our customers for your genuine concern. All is good... Roast On!"
Vote on this Story by clicking on the Icon