continued — "What we really need is space for visitors," said Trustee Peggy Van Arnam. "This will not be a lot for downtown workers."
The board conversed about closely re-examining the parking situation in the village, and possibly implementing a total overhaul of parking in Cazenovia next year.
"Over the winter, we will look to draft a holistic village-wide shift in the parking model, for this spring," Wheeler said.
The board then unanimously approved a bond of $200,000 — to cover the cost of the property and closing fees, as well as construction of the new parking lot — to be repaid within five years.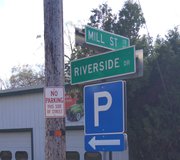 During the regularly-scheduled village board meeting on Nov. 5, trustees announced a number of the universally-recognized blue parking signs have recently been installed downtown.
The new signs direct drivers to the free, all-day public parking lot on Riverside Drive, behind the Cazenovia Public Library.
Village officials have continuously attempted to increase awareness of the lot, adding a pedestrian walkway which connects to Albany Street, and taking steps to clearly define spaces over the past year.
The future public parking lot on Lincklaen Street will serve as a permanent record of their efforts.
Pierce Smith is editor of the Cazenovia Republican. He can be reached at 434-8889 ext. 338 or editor@cazenoviarepublican.com.
Vote on this Story by clicking on the Icon