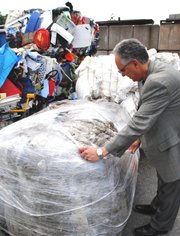 "We are extremely eager to move forward with this program," Zecca said. "The first step is to start collecting AG and rigid plastic from in and around Madison County, bale it and ship it to the Niagara Falls facility where it will be turned into clean diesel fuel. We are confident that as this program evolves JBI Inc .will realize the untapped potential here in Madison County and the surrounding counties and commit to establishing a presence here in Madison County."
Zecca was the guest speakers at the Madison County Farm Bureau Annual Meeting on Oct. 17 at Centro's Restaurant in DeRuyter, where he gave an update on the plastics to oil program. This event was attended by more than 60 people.
"As soon as a contract is put in place with JBI Inc. more information on the collection process will be released," Zecca said.
Sharon A. Driscoll is Recycling Coordinator at the Madison County Department of Solid Waste and Sanitation. She can be reached at 361-8408 or sharon.driscoll@madisoncounty.ny.gov.
Vote on this Story by clicking on the Icon