continued — "It's really assignment football," Jacoby said. "Everybody has to do their job. If one person doesn't do their job, then a play doesn't work. We're like a well-oiled machine. If one part doesn't work, then we're not going to work as a unit."
The M-E machine functioned in top gear all afternoon. When a Lakers' fake punt attempt didn't work, it set up the Spartans for its third score in the opening period.
Escaping the grasp of Cazenovia defensive back Mark Dewan, Jacoby dashed for 21 yards on a pitch left. A 15-yard Sorrenti run on 3rd-down-and-4 set up Jacoby again, who punched in the score from six yards out with 47 seconds left.
"I don't feel like we're really used to playing (from) behind or playing with the score really close," Jacoby said. "So for us, playing with a big lead really gets us into our comfort zone and from there was just put it in autopilot."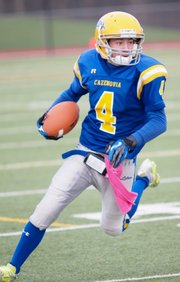 Though the Lakers offense stalled out again, the defense finally got the Section III champs on the board. A Gallagher option pitch to Uceta was thrown behind him. After the ball deflected off Uceta's outstretched left hand, Colligan picked up the loose ball and ran it 34 yards up the left sideline for the touchdown.
But an Uceta 11-yard TD run — his first carry since injured his foot two weeks ago — finished the scoring in the first half as the trio of Sorrenti, Jacoby and Uceta combined for 248 rushing yards and four TDs in opening two quarters.
"We just kept the momentum going on our side," Sorrenti said. "We believed in each other and we know what it feels like to be state champs."
Gallagher found brother Adam Gallagher on a 33-yard bomb up the right sideline 4:42 into the third quarter after Adam got behind Colligan and Chad Warren in the Cazenovia secondary. Jacoby took a pitch left for the two-point conversion and trotted in untouched to extend the Spartans' lead to 35-7.
Vote on this Story by clicking on the Icon