Skaneateles — This is the first in a two-part article on Victory Sports Medicine and Orthopedics proposed Victory Campus.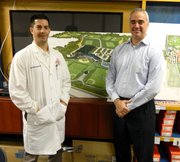 The past few weeks have seen a turmoil of activity, conversation, consternation and criticism in Skaneateles over the proposed Victory Sports Medicine campus to be built on 99.5 acres of land just east of the village. Although this project began more than four years ago, it was not until the Town Planning Board, in an Oct. 16 meeting, completed the State Environmental Quality Review Act assessment and voted for a negative declaration that the project exploded into a local controversy.

Since then, passions have risen, accusations have been flung, arguments have been made and a public information campaign has been begun by a group of project opponents. But what has not happened in the media or the public arena, according to VSM owner Dr. Pietropaoli and Chief Operating Officer Lance Wardell, is a complete explanation and understanding of the entire project and its history, and the great pains they have taken to comply with all the various laws associated with such a large development and to consider public interests and concerns.
Pietropaoli and Wardell agreed to sit down with the Skaneateles Press for what turned into a two-and-a-half-hour interview. The Press also has examined the entire four years of planning board records for the VSM project.
"We expected opposition but nothing like this. Some of the stuff that's been said and done, I'm not okay with," said Pietropaoli, who has lived in Skaneateles for 14 years. "I love the area; I love the lake. Why would I want to mess it up? I'm not a developer. This is a business. … I'm being made to look like a villain for putting in something healthy and creating jobs. … What are we doing that is so villainous, or is it some other people's personal agendas?"
(Continued on Next Page)
Prev Next
Vote on this Story by clicking on the Icon