Cazenovia — Dr. Venera A. Jouraeva, an environmental chemist, has joined Cazenovia College's faculty as an assistant professor of chemistry.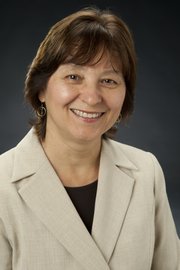 "We often take things that surround us for granted, but chemistry helps explain the changes that occur around and even in us," Jouraeva said. "Chemistry is a very interesting and important subject that is interconnected with all natural sciences. I would like students to understand and enjoy chemistry as much as I do."
Jouraeva, whose research interests are in remediation of soil and water, has spent the last six years working on developing a mixture of various soil additives that can be used for remediation of soil contaminated with toxic metals and carcinogens.
"I am also interested in increasing productivity of agricultural soil and in remediating soil contaminated with persistent pesticides," Jouraeva said.
Of her position at Cazenovia College, Jouraeva said she is happy with the current arrangement and optimistic for the future. "I have great colleagues and wonderful students, and the college community is very welcoming and friendly," she said. "There is an atmosphere of mutual support here in which it is easy for both faculty and students to thrive."
Jouraeva completed master's and doctoral degrees in environmental science and chemistry at the State of New York College of Environmental Sciences and Forestry, and has an additional Master's Degree from Kazan State University in Russia.
In addition to her scientific interests, Jouraeva is a member of a Morris dancing group, and enjoys music, art, traveling and outdoor activities.
Vote on this Story by clicking on the Icon