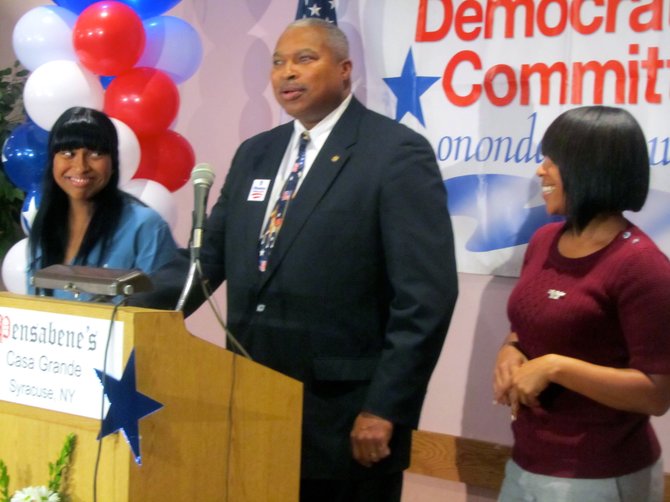 SYRACUSE — Syracuse Democrat Sam Roberts will return to Albany for a second two-year term.
Roberts will represent the newly named 128th Assembly District after receiving nearly twice as many votes as Republican John Sharon, of DeWitt. Roberts won by a vote of 31,146-15,575.
Onondaga County Democrat Committee Chair Mark English introduced Roberts, who is retired from General Motors, as "a man of the people" at the party's celebration at Pensabene's Casa Grande in Syracuse last night.
Roberts made sure to acknowledge the local Democrats' success in the election before accepting his own win.
"We are about to take back our seat in Congress," he said to applause. "That's right. We got Al Stirpe back!"
He continued: "When it comes to myself, I really want to thank everyone, really, everyone in this room for all the work that you did, all the love that you've given me … We've worked our behinds off together to get the vote out, and I think we've done that."
Roberts gave credit to Citizens Action of New York as well as organized labor for helping him secure the win. "My union brothers and sisters have come through in so many ways," he said.
At a gathering of the local GOP at the Doubletree on Carrier Circle, Sharon thanked his team of campaign volunteers for their efforts.
"[It was] a small team [of] young people, [and] they worked really hard. We worked really hard," he said. "We accomplished some phenomenal things in a very short period of time."
He said he was disappointed by the loss, "but you know, I don't know how to explain it. Other than, I don't know how you can do that much work and run against someone who doesn't do any campaigning or do any work and lose by such a margin. There's something there. I don't know how to explain it."
The district includes parts of Syracuse and the towns of Onondaga, Salina and DeWitt and its registered voters are about 45 percent Democrat. Roberts beat out Sharon by a similar margin in 2010.
Sarah Hall contributed to this report.
Vote on this Story by clicking on the Icon