Marcellus — In anticipation of today's presidential election, students in Lisa MacLachlan's second-grade class at K.C. Heffernan Elementary have not only been learning about the electoral process. They've been participating in it, too.
To bring this cornerstone of American democracy to life inside the classroom, Mrs. MacLachlan has organized a mock election – complete with campaign speeches, buttons and an old-fashioned, pull-the-lever-to-close-the-curtain voting booth.
Last week, several students had the chance to step into a candidate's shoes, by dressing as the presidential candidates (or their running mates) and delivering stump speeches to their schoolmates, during four special assemblies. The entire school will cast ballots on Election Day, in an old Onondaga County Board of Elections voting machine set up in MacLachlan's classroom.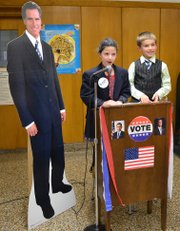 In an assembly for third-graders Thursday in the cafeteria, second-grader Lindsay Kent played the part of Democratic President Barack Obama, and classmate Anna Suarez spoke as Republican challenger Gov. Mitt Romney. They stood on chairs behind a lectern, beside cardboard cutouts of the real candidates. Their running mates (Hannahbell Young as Joe Biden and Zac Swan as Paul Ryan) stood quietly beside them.
Before the speeches, MacLachlan quizzed the audience on their election know-how.
This is the second time MacLachlan has brought the polling place to the classroom for her students.
"I ran a mock election in 2008 for KCH," MacLachlan said. "My husband is the highway superintendent for the town of Marcellus so I've helped campaign for him numerous times so I feel very familiar with the whole process. I hope the students have lasting memories from the whole experience and that it makes them want to vote in elections when they are old enough.
"I am very patriotic," she continued. "We live in the best country in the world, and one of our greatest freedoms is the ability to have a voice and vote. My daughter is 8 years old and I've let her 'help' me vote in every election since she was probably 2 years old. The students are very excited to be able to "really" vote."
Here's the complete roster of student "candidates":
Barack Obama: Lindsay Kent, Lilly Schultz and Scott Strait.
Joe Biden: Landen Nitsch, Hannahbell Young, Rosa Stasyuk and Eric Radionov.
Mitt Romney: Tristan Baker, Anna Suarez, Cole Cooper and Nolan Hammerschmidt.
Paul Ryan: Errol Fern, Zachery Swan, Ben Millier and Jack Sammon.
Vote on this Story by clicking on the Icon