Griffin said she wasn't always interested in competing at this level. She decided to become more active while playing in her backyard with her (then school-age) son.
"It wasn't until I was in my late 30s that I became interested in exercising. My kids wanted Jim and me to help them with soccer practice, and I realized I was out of shape," Griffin said.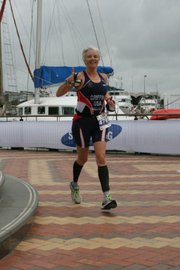 She set an easily-attainable goal for herself, running in the Cazenovia July Fourth 5K Footrace, a few years back, and continued to work on becoming the well-rounded athlete she is today. Griffin said she kept up momentum by setting small goals for herself. Her stamina increased as she varied her workouts and she soon found herself signing up for a triathlon through the campus of Keuka College — her mother's alma mater.
The event was a family affair, as Griffin's mother also attended the race to cheer her on. She said she didn't know it at the time, but that race was a qualifier for the National Championships, and she was soon making travel arrangements to visit Portland, Ore.
After that, she hasn't looked back. Injuries — including a bicycle collision with a deer that left her in bandages — have not stopped her, and in some cases motivated her to train and continue to improve.
Griffin can be seen running around Cazenovia most days. To contact her at her office, call 655-8300. For more information about the ITU 2012 Barfoot & Thompson World Triathlon Grand Final, visit triathlon.org.
Pierce Smith is editor of the Cazenovia Republican. He can be reached at 434-8889 ext. 338 or editor@cazenoviarepublican.com.
Vote on this Story by clicking on the Icon
More like this story