State Assemblyman Sam Roberts, a Democrat from Syracuse, is running for reelection to his second term. He represents the 128th Assembly District. He is being challenged for a second time by John Sharon, a Republican from DeWitt.
Sam Roberts
What are the major issues facing your district?
"First of all, we need to get our children back to work and make sure that our children have all the opportunities they deserve. Things in our region are getting back on track, but we can still do more and we need to do more. That means attracting businesses and supporting private sector job creation. I've been working with the governor. The governor says that it's because of him that everything is [working.] I like to think that it's because I got there as well."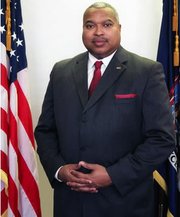 What have you accomplished in your first term?
"I was able to secure over $100,000 in federal funding for the Syracuse and DeWitt police departments. For the Syracuse Police Department it was to provide more cameras and for the DeWitt Police Department it was to provide a special vehicle that they needed. I worked closely with some of my colleagues to pass legislation increasing the buffer zone at funeral services for our armed services to protect the families and friends mourning the loss of our heroes."
How will you carry those accomplishments forward, and what do you hope to achieve in your next term?
"[I will] keep on fighting for people's rights and the services that we're supposed to provide."
Your opponent has said you haven't introduced enough bills to warrant a second term. How do you respond to this?
"Well first of all, I don't know what he would get passed if he was there. But the thing is, I did nine, and I feel comfortable with that. [I focus on] constituent services, and making sure that we have what we need here. [I was a major sponsor of nine bills,] but I also co-sponsored hundreds of pieces of legislation, and I feel comfortable with that, but I'm ready to go back and fight for what our families need. My priorities are to strengthen our economy, so businesses can grow and create good paying jobs here; fight for more state education money; and making sure our police departments have all the tools they need to keep us safe."
(Continued on Next Page)
Prev Next
Vote on this Story by clicking on the Icon