continued — I have been the Onondaga County Attorney since 2008. I supervise 24 attorneys in my office, and the attorneys are required to make independent judgments each and every day. I require my attorneys to make decisions that are both legally sound and ethically correct. That is the principle I have tried to follow throughout my career and will be my guiding principle as a judge.
I am a person who grew up in a low income neighborhood and has worked hard throughout my life, for example, I worked fulltime during the day and went to law school at night. During the course of my career, I have learned by interacting with a broad spectrum of people. My personal and professional experience provides me with the temperament and qualifications to be County Court Judge.
Thomas J. Miller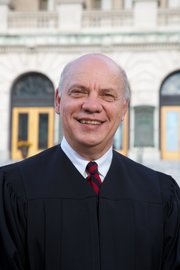 Community Involvement: Fayetteville-Manlius Little League Coach; Fayetteville-Manlius Little League Board of Directors; Fayetteville-Manlius recreation league basketball coach; speaker/lecturer at Fayetteville-Manlius and Manlius Pebble Hill high schools Stop DWI Program; speaker/lecturer at Syracuse University; speaker/lecturer for the Onondaga County Bar Association; speaker/lecturer for the NYS Magistrate's Association; speaker/lecturer for the Onondaga County Magistrate's Association; and Onondaga County Bar Association Board of Directors - elected Vice President 2011.
What makes you qualified to serve as Judge?
Experience. As a practicing lawyer for over 30 years, I have appeared in County Court on a regular basis in hundreds of cases. I have been involved in several major felony trials and homicide trials in County Court.
As a Village Justice for nearly a dozen years, I have presided over countless cases hopefully, fairly and impartially without advocating for one side or the other, as a lawyer does.
Why should voters elect you?
Through my years of experience before the bench as a lawyer and behind the bench as a judge, I believe I have developed the skills to understand the law, to realize that being a judge is more than a 9-to-5 job, but rather is an identity and an obligation to be a positive role model. Through my experience, I know the difference between an individual who has made a mistake due to an addiction or mental health issue, and an individual who has chosen crime as a career path and will deal with each appropriately.
Voters can be assured that I have the right balance of experience as a lawyer for 30 years and as a judge for almost 12 years to understand the law and to apply it fairly and impartially while protecting and balancing the rights of defendants and victims.
Vote on this Story by clicking on the Icon