Onondaga County — County residents will have two candidates to choose from when filling the Onondaga County Clerk seat left vacant after County Clerk M. Ann Ciarpelli resigned in July after four terms in office.
Sandra Schepp is a candidate running on the Republican, Independence, Conservative and Veterans party lines and Gary Morris, Sr., is a candidate running on the Democratic and Working Family party lines.
Eagle Newspapers recently interviewed the candidates to get an idea of what each candidate represents. Their answers are featured below:
Gary Morris, Sr.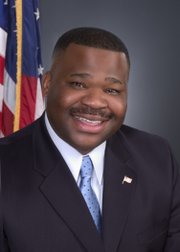 Community Involvement: Current Member of 100 Black Men of Syracuse, Inc.-2009; Current Board Member of Syracuse City School District Educational Foundation Board-2009; Current Member of the Knights of Columbus-2006; Current Member of Syracuse City Democrat Committee. City Chair of the First Ward Committee-1994; Former Board Member of North Syracuse School District Multicultural Committee-2006-2010; Former Board Member of Syracuse Minority Media Coalition-2009-2011; Former Top Campaign Advisor for State Assemblyman Sam Roberts -2010; Former Campaign Manager for Syracuse Common Council President Van Robinson -2009; Past Board Member with Syracuse Model Neighborhood-2006-2007; Ran for Onondaga County Legislator-2005 and 2007; Received the endorsement of The Post-Standard in 2005 and 2007, during run for Onondaga County Legislator; Past award recipient in 2006 and 2008 for Benjamin Banneker Club of Syracuse and Onondaga County; Past Board Member for Neighborhood Action Council 1998-2000; Public Relations Director for Payton Temple Community Men's Center from 1997-1999; and co-established "Reading Round the World" at Cicero Elementary School 1993-1994.
What makes you qualified to serve as County Clerk?
I have the education, the experience and the qualifications. I have an associate, bachelor and master degrees in business. I have county management experience as a budget analyst for the county executive management and budget department, where I managed, prepared and allocated budgets totaling $81.7 million dollars. I have been a business professor at Onondaga Community College and Cazenovia College for more than seven years. This wealth of education and experience qualifies me as the candidate of choice for County Clerk.
(Continued on Next Page)
Prev Next
Vote on this Story by clicking on the Icon