State Sen. John DeFrancisco is running for reelection to his eleventh term. The Republican from Syracuse represents the 50th State Senate District, which has been redrawn to no longer include the city of Syracuse. The district has shifted west to include part of Auburn and four towns in Cayuga County, and most of Onondaga County.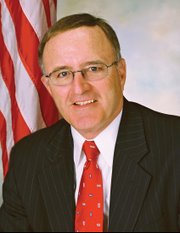 What are the major issues facing your district?
Putting New York's fiscal house in order.

Helping to create jobs.

Improvements to education.
What is your proudest accomplishment since coming into office?
After years of hard work, Upstate Medical University broke ground on a public cord blood bank on its Community General campus in September. I secured $15 million dollars in state funding for this world-class facility, which will save lives by making umbilical cord blood available to more in need of live-saving treatments. Meeting two Central New York children, alive today, because of umbilical cord blood was a profound and moving moment for me.
What do you hope to achieve in your next term?
I hope to continue to work in a bi-partisan fashion to reduce government spending, lower taxes and reduce the size of government. We spend a lot of money on education, and I'd like to see better results in education for our children. We need to work together to improve educational outcomes for children.
You are running without opposition from the Democrats. To what do you attribute this?
I represent 100 percent of my constituents. I understand the problems that the 50th Senate District faces, and I work very hard to solve the problems. I would like to think people see that, and they are happy with what I have done so far."
What is the most important difference between you and your Green Party challenger, Michael Donnelly?
My challenger believes that government should provide solutions to our state's problem. I believe that we should help people solve their problems with as little government involvement as possible.
Why are you the best candidate for this position?
I have achieved success serving as a state senator for the past 20 years, and I am in a position in Albany right now as the Chairman of the Finance Committee to do more good for our state and for Upstate New York.
DeFrancisco is being challenged by Green Party candidate Michael Donnelly, who did not respond to requests for comment.
Vote on this Story by clicking on the Icon