Kristen Shiner McGuire is a drummer, jazz singer, solo marimbist, orchestral timpanist and contemporary chamber musician.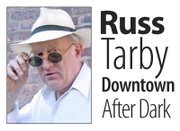 No wonder she's so multi-talented. Kristen's got great genes.
Her mom was a dancer-choreographer who appeared in Broadway shows such as "Bloomer Girl" as well as working in movies and television. Her dad, Raymond Shiner, performed in Broadway pit bands. He was also a member of the inventive Sauter-Finegan Orchestra. He played eight different woodwinds!
Dad started CNYJO
Ray went on to teach music at SUNY Potsdam and later became founding director of the CNY Jazz Orchestra, which remains one of the Salt City's swinging-est ensembles nearly 13 years after Shiner's death in December 1999.
Kristen Shiner McGuire is the coordinator of percussion studies at Nazareth College in Rochester and often performs with combos such as Jon Seiger's All-Stars, a trad-jazz group, and her own all-female choral group, Elle.
Now in her 50s, Shiner McGuire only recently released her debut disc, "Kristen sings and plays and rings," a collection of 11 tracks recorded at The Studios at Linden Oaks in Rochester. As the title suggests, the recordings showcase the artist's many talents, from vocals to vibraphone, from trap set to triangle.
Kristen sees this disc as a tribute to her late father. "Many of these tracks were among his most-often-played tunes in our home," she wrote on the disc's liner notes.
'Little Girl Blue'
In fact the recording opens with Rodgers & Hart's "Little Girl Blue," one song Ray would play regularly on piano adding his favorite bass lines and harmonies. Kristen's version of "When Sunny Gets Blue" was inspired by one of Ray's students at SUNY Potsdam, a singer named Renee Fleming.
"My father would bring home reel-to-reel tapes of his College Jazz Ensemble," Kristen wrote. "I still remember Renee's version of this song." Kristen's sultry, sophisticated vocal underscores the "blue"" in the Nat Cole composition, and her singing receives solid underpinning by Paul Smoker's trumpet which also delivers a relaxed but potent solo. The track climaxes on a gorgeous final note as Kristen's voice slides seamlessly into the stratosphere.
(Continued on Next Page)
Prev Next
Vote on this Story by clicking on the Icon