Cazenovia — Cazenovia College's Summer Art Series will open with a one-day, one-woman show, "A Hundred Thank Yous: a gratitude project by Lori Portka," from 2 to 6 p.m., Saturday, June 16, at the Cazenovia College Art Gallery in Reisman Hall, located at 6 Sullivan St, Cazenovia.
For the past year, Portka has been painting her gratitude for one hundred people who have made a difference in her life. She first conceived the project after hearing about a woman who, in an effort to fight depression, started a year-long photographic project – taking one Polaroid photo every day of something she felt grateful for.
She posted the project on flikr.com, and word began to spread, with others taking on projects of their own.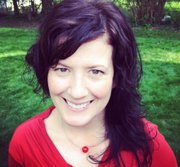 "I was intrigued, but on a deeper level, this project seemed like a natural thing for me to do. Part of my spiritual practice is gratitude – it is central to how I want to live my life," Portka said. "And it fits that I would do a gratitude project with my artwork because gratitude and happiness are such a big part of my life as an artist. My intention is to uplift people through my art; I want my artwork to evoke feelings of joy and sweetness."
Portka said she wanted to challenge her endurance and stretch her ability to be creative. "I wanted to see what it would be like to do a huge body of work. I figured I would be changed by the end of it and I am. It brought me to a new understanding about how important gratitude is and has given me much more confidence as an artist. I'm also very excited to see how people react to receiving a gift of art and gratitude when I give my paintings away after the exhibition," she said.
(Continued on Next Page)
Prev Next
Vote on this Story by clicking on the Icon