On Saturday, May 19, the Carrier Dome in Syracuse was host to the NCAA Women's Lacrosse Tournament Quarterfinals.

The two teams that matched up against one another were Syracuse University and the University of North Carolina.
From the opening draw to the final seconds of the game, it was a remarkable match for both teams.

One of the reasons it held special meaning to the local community was that each team had a player who called Cazenovia "home."

Kara Cannizzaro, a junior at the University of North Carolina, and Gabby Jaquith, a freshman at Syracuse University, were, for the first time in the national spotlight, on opposing teams.
Cannizzaro and Jaquith both grew up in Cazenovia and graduated from Cazenovia High School. In addition, both of their families still reside in Cazenovia.

Throughout their time participating in Cazenovia-based athletic programs, Cannizzaro and Jaquith found themselves most often as teammates.

From a very early age, both girls played on numerous teams together, including soccer, track and field as well as lacrosse.

Before they were old enough to play with the Cazenovia Central School District's modified, junior varsity and varsity level teams, they played in the Brine Upstate Lacrosse League together.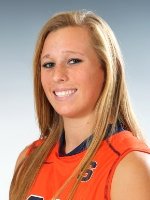 This league came to Cazenovia by hardworking individuals wanting to bring one of the fastest growing sports in the country to the Cazenovia community. In fact, one of the first coaches Jaquith had in the B.U.L.L league was Cannizzaro's mother, Katie.

The two were also involved together in one of the most competitive lacrosse clubs in Central New York, named "Starriders." There they were coached by Dick Lighton, who for many years was not only a positive force to the girls he coached, but also a mentor. Participating as team members in the Starriders Club gave girls the ability to play within, and beyond the CNY area.

(Continued on Next Page)
Prev Next
Vote on this Story by clicking on the Icon