continued — "It is of great importance that the community attends the traditional ceremony at Riverview Cemetery," Baker said. "This is a wonderful opportunity for parents to share the rich history of Baldwinsville."
Grand Marshall William Hare
William Hare began his training at Fort Chaffee, Arkansas on May 28, 1951 as part of the 5th Armored Division and deployed for Korea in September of 1951. During his first tour of duty, he was wounded taking Pork Chop Hill and still carries some shrapnel in his arm from that fabled encounter. After recovering from his wounds, he re-enlisted and served another tour of duty in Korea, serving a total of approximately six years. Hare reached the rank of Sargeant during the years of his enlistment. He was awarded the Korean War Medal, Bronze Star, Purple Heart and Combat Infantry Badge for his bravery while serving our country.
Hare was born in Syracuse, but has lived in Baldwinsville for much of his life. He has served as commander of both American Legion Post 113 and Albert Glen Richardson VFW Post 153 in Baldwinsville. In addition, he served on the committee that raised the money to restore Baldwinsville's Civil War Monument now located at Riverview Cemetery in Baldwinsville. Most recently, he has served loyally and enthusiastically as a member of the Baldwinsville Memorial Day Committee.
"We as a community are extraordinarily grateful for his contributions to our cherished Memorial Day tradition," Baker said. "Ever since Jack, Peg, Mace and I took over, Bill has always been the one person who enthusiastically attended the meetings and everything involved with Baldwinsville's Memorial Day Parade. He's done a lot and cares so much about Memorial Day."
Guest Speaker and President of the Day Charles Brooks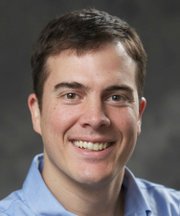 As an Infantry captain deployed on the Afghanistan-Pakistan border from 2003-04, Brooks planned, coordinated and executed an Information Operations campaign that became an example to the Combined Joint Task Force on successfully integrating non-lethal effects into a highly contested battlefield.
Vote on this Story by clicking on the Icon