After more than five years of death and destruction, of buzz bombs and A-bombs, Panzer tanks and kamikaze planes – after 60 million men and women had perished during World War II, if you were one of the lucky ones who survived, well, it was time to dance!
And dance we did.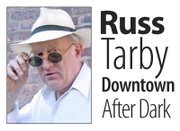 In 1947, two years after the deadliest military conflict in history, Central New Yorkers were cutting up rugs from Three Rivers to the Valley. In fact, the Syracuse area enjoyed such a lively nightclub scene that the now-defunct Herald-Journal regularly ran 40-column-inches of advertisements under the heading of "Dining and Dancing."
My friend, Syracuse singer Mimi Osmun, recently sent me an old tearsheet from the daily newspaper which attested to the vibrancy of the music scene here 65 years ago.
Dade's Dancing Dolls
Some two-dozen busy bistros placed ads including Club Candee which presented Elmer Dade's Dancing Dolls performing "The Follies of 1947." Located at the corner of Valley Drive and West Seneca Turnpike, Club Candee served "boneless golden Southern-fried chicken" for 75 cents and featured music by Don Eldon's Orchestra and singer Dave Fairchild.
Prices were a tad higher at Three Rivers Inn on Route 57 six miles north of Liverpool where you could dine on Oneida Lake pike or frog legs for $1.50 each and dance to the music of Joe Cronin's Orchestra featuring vocalist Michael Fortune.
Down city at the Brown Jug, at 521 S. Salina St. next door to Loew's Strand, Kate Gonyea played piano and Solovox. Kate's Solovox was a newfangled instrument designed by Alan Young of the Hammond Organ Co. and manufactured between 1940 and 1948. It was a three-octave monophonic keyboard attachment instrument intended to accompany the piano with organ-like voicings.
Famous for its steaks and spaghetti, the Heidelberg Grill at North Townsend and East Division streets featured Tony Piazza's Orchestra and Chet on the Solovox for dancing on Fridays, Saturdays and Sundays.
(Continued on Next Page)
Prev Next
Vote on this Story by clicking on the Icon