continued — Nancy Meloweski, Rich Quinn and Cat Gallagher were also given stage-time.
On Saturday there was an even larger crowd. There were a number of outdoor workshops from 11 a.m. to noon, including "How to Make a Washtub Bass" led by Jane Zell. The day's music began with a square dance at 1 p.m. It was played by the New York State Old Tyme Fiddlers' Association, with Keith Hunt serving as caller. There were many, many fiddlers, guitars and a piano. While they initially had some trouble rounding up dancers, they soon had more than enough enthusiastic participants. They played "The Irish Washer Woman," "Soldier's Joy" and "The Barn-Burner's Breakdown." The square dance was followed by an Irish Session at 2:16 p.m., consisting of five violins, a harp and a guitar.

Many different acts took the stage on Saturday. Some of the afternoons highlights included Toby Weinberg, formerly of the Syracuse Symphony Orchestra, who played an eight-stringed Norwegian folk fiddle known as a "Hardanger fidde" (one of the songs he played was supposedly authored by the Devil); a performance by Lacey Lee at 4:30 p.m., who played a mix of covers and original songs on the electric harp; and Lake Effect Bluegrass, who played banjo, guitar, fiddle, mandolin and bass at 5 p.m. in matching black and red suits.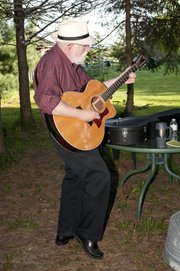 At 7 p.m. Diamond Sunday took the stage, playing banjo, guitar, bass, slide guitar, mandolin and fiddle. They played a mix of covers and originals, including "Will The Circle Be Unbroken." Their harmonies were magnificent, and various members took turns with the lead-singing. Banjo and fiddle took turns beautifully soloing.

At 8 p.m. Bob Halligan Jr. and Joe Davoli of the nationally acclaimed band Ceili Rain played a selection of originals. Their music spurred a conga line and had everyone clapping and singing along. At 9 p.m. singer-songwriter Greg Hoover played with accompaniment by Lacey Lee. He played locally well-known originals such as "The Grand Casino" and "The Waltz Of The Stars," on which Lee's harp was especially striking.

Other acts included Harvey Nusbaum and the Salt Potatoes, Liz Friedel and her fiddle students and Jane Zell and her Haberdasher Trio.
Sunday was sparsely attended. It began at 1 p.m. with a participatory jam in the barn. Dove Creek played a mix of covers and originals at 3 p.m., after which was an open mic. Practically every song on Sunday was in a gospel or otherwise religious vein.
Paul Shepard is a freelance writer with the Eagle Bulletin.
Vote on this Story by clicking on the Icon