Pompey — The Kellish Hill Music Farm has concluded its successful second annual American Music Festival. The fun lasted all weekend. Admission was $10 for Friday, $10 for Saturday ("Fiddlers' Day"), $5 for Sunday ("Gospel Day"), or $20 for all three days. The event was catered by Knoxie's Pub.
Mark Smith served as emcee, introducing the various acts and drawing on his experience as a radio personality. Venders were present, selling jewelry, textiles, handbags, and garments. Steve Simon, of Plank Road Magazine (who advertised the Festival), gave away posters and sold subscriptions.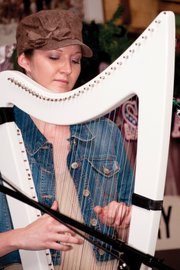 "State and Federal funding for the arts has been cut. We want to keep everyone enjoying live arts," Simon said.

The festivities began with a participatory outdoor jam at 5 p.m. Friday. Instruments present included guitars, mandolins and an accordion. The kickoff concert, which took place in the music barn, began at 7 p.m. with the singing of "The Star-Spangled Banner," led by Maggie Taylor. Dozens of people were in attendance.

The Hamilton Ramblers – a three-piece composed of guitar, bass, and mandolin – offered a pleasing mix of instrumentals and songs including "Working It Out" by Shel Silverstein. Their harmonies were exquisite, and the mandolin and guitar took turns expertly soloing. The popular local group Folkstrings played next, opening with "This Land Is Your Land." Their instruments included guitars, washtub bass, banjo, zydeco tie, recorder and shaker. They played a number of songs popular in the 1960s and '70s, "from that folk boomlet that the Beatles wiped out," frontman Mike Kester said. Their offerings included "Where Have All The Flowers Gone?" and "The Last Thing On My Mind."

The highlight of the evening was a performance by singer-songwriter Dusty Pascal who played a number of originals, including "Sun-Dried Heart," "Devil Wind," "Brother John" and the indescribably gorgeous "Real Love." His five children joined him on stage for his first two songs and provided backing vocals. He was later accompanied by Bill Hider on washtub bass. Several of the songs are on his new album, "Human Heart," which took him nine months to record.


(Continued on Next Page)
Prev Next
Vote on this Story by clicking on the Icon