continued — "There is no question whatsoever that, without the course of action you took the moment you became aware of this matter, that the subject would not be alive today," Hildmann said to Baumann.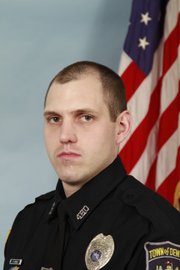 Officer Christopher Fuller received the Office of the Year award for his service, work and dedication to the department.
Chief Conway said Fuller shows great enthusiasm toward police work and strives to do his best in any situation. Conway described Fuller as passionate and dedicated, and said he represents the highest values of the police department.
"He exhibits outstanding character and professionalism on a daily basis," Conway said. "He is constantly, consistently proactive, always seeking to suppress crime."
Vote on this Story by clicking on the Icon