DeWitt — In a crowded courtroom, residents from all over Central New York gathered to celebrate outstanding citizens and officers at the 2012 DeWitt Police Department Awards Ceremony.
The ceremony, which took place Tuesday, May 27, at 3 p.m., presented five area residents and 13 officers with awards ranging from special recognitions to outstanding law enforcement accomplishment.
Among residents given special recognition awards was Matthew Salbert, 14, of DeWitt. On March 17, the then-13-year-old Salbert left his home to explore the nearby woods in back of Shoppingtown Mall. Salbert stumbled upon a clearly visible human skull and other human bones. He immediately told his mother, Rebecca, who then called police.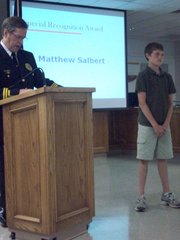 The bones were identified as the remains of Tracy Kulas, a woman who went missing in Syracuse in 2005. Police Chief Eugene Conway said Salbert's actions allowed Lewis' friends and family to find closure.
"It is the belief that if Matthew had not discovered [the remains] and notified his mother, then the remains would have stayed in place, and the family's anguish and wondering would have continued indefinitely," Conway said.
Officer Brenton White and Investigator Leroy Andrews were given awards in outstanding law enforcement for their involvement in a police search that ended with officers and investigators seizing narcotic drugs including heroin, morphine, hydrocodone, 40 pounds of marijuana and more than $5,000 in cash from a DeWitt Shire residence.
Also honored at the ceremony was Officer Donald Baumann, who saved a man from hanging himself in his own basement. Baumann received the Life Saving award.
Upon hearing about a man threatening to commit suicide, Baumann quickly went to and entered the man's residence, only to find him hanging from a rope in the basement. Baumann was able to get the man down, and he was transported the hospital, where Hildmann said he is currently recovering.
(Continued on Next Page)
Prev Next
Vote on this Story by clicking on the Icon