Manlius — Fayetteville-Manlius High School's Science Olympiad team placed seventh in the Science Olympiad National Tournament Saturday at the University of Central Florida in Orlando.
Sixty high school teams from across the nation gathered in Florida for the competition, which included 23 building and knowledge events focusing on earth science, biology, chemistry, physics and more.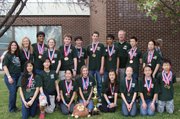 Middle school teams also gathered in Orlando for their own competition, including F-M's Eagle Hill Middle School, which placed 16th.
F-M has been New York State's No. 1 high school Science Olympiad team since 2003, and the school came in second from 1999 to 2002. It took the national championship in 2004.
Last year, the school finished 11th at nationals.
For Jamie Cucinotta, 60, an F-M teacher and Science Olympiad coach for years, this was her last competition. She is retiring this year after leading the team to nationals 14 times, including the last 10 years in a row.
Vote on this Story by clicking on the Icon