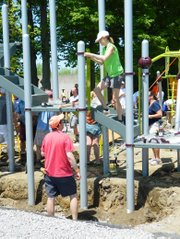 Skaneateles — Hundreds of Skaneateles community members, groups and local businesses spent hours of their weekend — some spent their entire weekend — out in the sun and summer weather at Austin Park this past weekend helping to build in three days a new playground for Skaneateles.
The Austin Park playground project, sponsored by the Parks and Recreation Council of Skaneateles, came to fruition May 18 through May 20 after nearly one year of fundraising and organizational efforts.
At the end of the day Sunday, May 20, the Skaneateles community had a new, state-of-the-art playground far larger than the previous one, with equipment for children, a fitness area for adults and wheelchair accessibility for all.
"This has been an amazing turnout," said PARCS member Meg Keady on Saturday, May 19. "Even now, it's the noon shift change and no one wants to leave. It gets contagious; everyone wants to stay and see it finished."
With temperatures in the high 70s to low 80s throughout the weekend and clear skies, the weather was perfect for the build. In addition to that, no major problems or issues arose, no equipment parts were missing and everything was delivered on time. "You couldn't ask for a more synchronized build," Keady said.
The Austin Park playground improvement project began in June 2011 by a core group of local parents and community members who felt the playground at that time was old, outdated and unsafe. Fundraising and visibility of the project took off in July when the family of 22-month-old Cameron Leigh Kenan, who died in July and whose mother was also a member of PARCS, requested donations be made to PARCS in lieu of flowers.
Since that time, PARCS has held numerous fundraising events and received vast support from local businesses and individuals. The group's goal of $152,000 to build the playground was met and surpassed this spring, and donations continue to come in. The additional money goes towards extra expenses that continue to crop up, as well as towards additional landscaping, benches, a new drinking fountain and even awnings over some of the equipment, Keady said.
(Continued on Next Page)
Prev Next
Vote on this Story by clicking on the Icon