Baldwinsville — Mr. Eric Balliet, son of Elizabeth Balliet and the late Robert Balliet of Baldwinsville, NY, is engaged to Ms. Felice Vasquez, daughter of Joe and Jeannie Vasquez of Santa Fe, NM.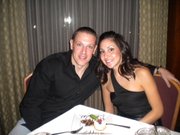 The groom-to-be is a 1995 graduate of C. W. Baker High who received his bachelor's degree from St. John Fisher in Rochester, NY, in 1999. He is currently a special agent for Homeland Security Investigations.
The bride-to-be graduated from University of New Mexico in Albuquerque in 2006 with a degree in mechanical engineering. She is employed at Raytheon Missile Systems.
The couple lives in Tucson, Az. A September wedding is planned in the bride's hometown in Santa Fe, NM.
Vote on this Story by clicking on the Icon