Cazenovia — Elizabeth Cummings-Monroe, a locally-based artist who works with watercolor, acrylics and collage, recently joined Cazenovia Artisans.

Her vibrant paintings often begin with a local landscape scene such as Cazenovia Lake, which she then subjects to extreme simplification and abstraction, resulting in a painting related to but not a copy of the scene.

A painting may begin with watercolor then move to ink and acrylics for opacity and contrast.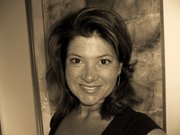 "I hope to create a very bold dynamic statement by integrating saturated color with subtle earth tones. I capture the essence of life, shake it up, stand back and watch it blow up in your face," Monroe said. "I enjoy using strong design and composition strategies to enhance the subject matter; I also desire to portray a provocative emotional response through the use of color and texture."
Monroe, who lives in Cazenovia with her family, is a member of the Cazenovia Watercolor Society, CNY Watercolor Society and the American Watercolor Society.

Recently, her work was the focus of an art exhibit at the Cazenovia Public Library.

Her paintings could also be found in the New Woodstock and Fayetteville libraries or in homes and businesses across the Northeast and Canada.
Art-enthusiasts may now enjoy Monroe's striking, colorful paintings at the Cazenovia Artisans Gallery at 39 Albany St., Cazenovia, as well as view the work of the 24 other local member artists.

The gallery, now in its 10th year, is open daily. For more information call 655-2225.
Vote on this Story by clicking on the Icon