Keen awareness of the situation helped the Cazenovia boys lacrosse team along as it earned, arguably, its important win of the 2012 regular season right at the end.
The Lakers' 11-9 victory at Homer Wednesday night served all kinds of purposes, from locking down the Division II regular-season championship to securing the top seed for the Section III Class C playoffs.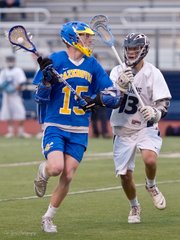 More importantly, it showed that Cazenovia could bounce back from a defeat in quick order – something it never had to worry about when winning 33 games in a row prior to last Monday's 15-10 defeat to Baldwinsville.
Homer provided a full challenge. It had lost to the Lakers 14-6 on April 3 at the Sean Googin Sports Complex, but since then the Trojans had gone 12-1, and entered this contest with a nine-game win streak and a no. 8 state Class C ranking.
As in the first meeting, Homer started well, but this time instead of a quick flash that Cazenovia answered, the Trojans were steady and relentless, claiming a 2-1 first-quarter edge on a pair of goals from Conner Johnston.
Twice in the second period, Cazenovia would tie it at 2-2 and 4-4, the latter with help from a rare goal by defender Doyle Judge. Both times, Homer went back in front, including a hot stretch at the end of the half that culminated with Casey Cleary's goal four seconds before the horn to make it 6-4 at the break.
It got to 7-4 with Conner Johnston's goal 19 seconds into the third period. But the prospect of back-to-back defeats after nearly two full seasons of unbroken success proved too much to stomach.
Oliver Gates' goal started a comeback, with Brad Nardella twice converting to tie it, 7-7, and Ryan Cook's tally in the last minute of the period gave the Lakers its first lead at 8-7.
(Continued on Next Page)
Prev Next
Vote on this Story by clicking on the Icon