Baldwinsville — Lysander is not singular in its identity.
This northwestern Onondaga County community draws tourists in from all over the world for recreational activities along the waterfront, as well as for its rich history in milling, architecture and transportation, and its many parks including Lysander and Mercer parks, Beaver Lake Nature Center and Three Rivers Wildlife Management.
Oh, and let's not forget the vast agricultural community.
From the tobacco and peony farms of yesteryear to the organic farms in operation today, greater Baldwinsville's acres of agriculture contribute significantly to supporting the Central New York community and beyond.
Photo Gallery
Bella Via Farms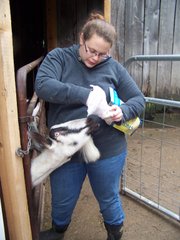 Bella Via Farms is a family goat farm as well as a modern processing facility. Striving to produce a high quality alternative to traditional cow milk for consumers that have problems digesting the proteins in cow milk, Bella Via offers goat milk as a dairy choice. "Goats in general are the most consumed meat and Dairy product in the world," said Bella Stahl, who owns the facility with her husband, Kevin. In addition to being very resilient animals with a much smaller eco footprint than that of cattle, most people can digest goat's milk even if they can't digest cow's milk because the protein is smaller in goat products, Bella added. During Farm Fest, Bella Via will offer guided tours of the cheese and milk bottling plant as well as milking demos at 11:30 a.m., 1:30 p.m. and 3:30 p.m. There will also be a baby goat petting area, food demos including feta cheese bruschetta and tastings of goat products (milk, cheese, ice cream and fudge) and the CNY Dairy Goat Association will have an informational booth on site. Bella Via Farms is located at 8827 Avery Road; call 303-5061 or visit bellaviafarms.com.
"Farming has been a very large part of Lysander from its early days and remains so today. We felt it was time to tie into and highlight this," said Ann Smiley, director of Lysander's Parks and Recreation Department, which has organized the first ever Farm Fest to be held from 10 a.m. to 5 p.m. this Saturday (May 19). The event aims to highlight the farming community in Lysander.
Smiley learned of a similar event held in Clifton Park during a conference last year. "It just seemed so appropriate with our large farming community that we decided to give it a try," she said of bringing the idea to Lysander.
Families are encouraged to visit four local farms and experience what it takes to make a modern-day agricultural facility operate.
"We think this will be a great family event and we hope the community comes out to each of the locations," she said.

Participating farms include Abbott Farms, Bella Via Farms, Smoke Tree Farms and Stillwater Farms.
"We were so fortunate that we had the four farms that agreed to jump on board," Smiley said. "Even better is that all four farms are different. Abbotts Farms is a fruit/vegetable type farm, Bella Via Farm is a goat farm, Smoke Tree Farms is a horse farm and Stillwater Farms is a beef cattle farm. In the last week, we have learned of at least two other farms that might be interested for next year, so hopefully it will grow."
(Continued on Next Page)
Prev Next
Vote on this Story by clicking on the Icon