continued — The 2012-13 proposed budget totaled $25,552,252, which was a 1.2 percent decrease from last year. No teaching positions or academic programs were cut on the budget, however small decreases in support staff, such as one teaching assistant, one bus driver and two weight room supervisors were included. Although the district has a smaller budget than last year, a decrease in funding from both state and federal levels required the district increase the tax levy by 1.6 percent.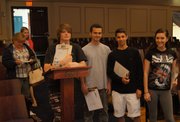 Proposition No. 2 authorized the borrowing of a maximum of $316,563 to purchase four new school buses for the upcoming year. District officials said the borrowed funds will be repaid over the course of five years, with 70 percent of the cost to the district being refunded by New York state.
Proposition No. 3 authorized the library tax levy, providing $364,844 for the Cazenovia Public Library, and $152,609 for the New Woodstock Free Library. The BOE has no authority over either library budget, but is required by NYS law to place the proposition on the ballot.
After voters cast their respective ballots, they were asked to complete an exit survey by Assistant Superintendent Bill Furlong and student volunteers.
The six-question assessment quizzed voters anonymously on how they voted, how they got their information, their knowledge of the district's financial situation and what they would like to see if next year's budget season poses similar issues as the last two years.
Furlong said 19 absentee votes were mailed in for the vote. For more information on BOE members, 2012-13 budget items and upcoming district events, visit caz.cnyric.org.
Pierce Smith is editor of the Cazenovia Republican. He can be reached at 434-8889 ext. 338 or editor@cazenoviarepublican.com.
Vote on this Story by clicking on the Icon