Baldwinsville — Baker High School Senior Ball attendees needing tuxedos had the opportunity May 8 and 9 to rent their formal wear during school lunch.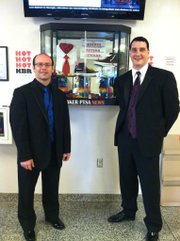 The Men's Wearhouse, of 3140 Erie Blvd. East in Dewitt, offered students the opportunity to select and be measured for tuxedos at the shop's promotional booth, which was set up just outside the Baker cafeteria. Adding to the convenience for students, Men's Wearhouse is allowing the students to return the formal wear immediately following the May 25 senior ball, as they enter the Keep the Ball Rolling after-party at the high school. KBR sponsor, Baker High School's PTSA, will earn a five dollar donation for every tuxedo rented through Men's Wearhouse.
Baker Principal Joe DeBarbieri and Assistant Principal Chris Campolieta wore tuxedos during the school day Monday, May 7, to promote the fundraiser.
"When asked if I would be willing to participate in the promotion of the Keep the Ball Rolling Party and Men's Warehouse fundraiser, I agreed to do whatever I could to support the senior class and our PTSA's efforts," said DeBarbieri. "If serving as a model for a day increases the number of students participating in this fundraiser then it's very much worth the effort. Both Mr. Campolieta and I just hope that we didn't scare away business as models," he added.
Senior Ball attendees who missed the in-school measurement and rental days at Baker High School can visit the Erie Boulevard Men's Wearhouse store and be measured. The in-store rental will also generate a $5 donation to KBR. The store's phone number is 446-2528.
Men's Wearhouse is also offering students the convenient option of picking up reserved tuxedos anytime the week prior to the senior ball.
Continuing a tradition of support, Burdick Automotive BMW, Ford, Lexus, and Toyota Scion announced at the beginning of the school year that it will once again donate a car to the event. Allstate Insurance's Chris Hayden, of Baldwinsville, has donated an iPAD2; and the Optimist Club of Baldwinsville gave a $1,200 donation to the planning committee for the event. On April 12, Hudson and Mowins held an oil-change fundraiser, yielding a $450 gift to the KBR committee.
To donate food, beverages, cash or gift items to this important community event, please contact Wendy Burke at 695-2534 or wendy.burke1@yahoo.com.
Peg Northrup is a resident of Baldwinsville serving on the KBR Committee.
Vote on this Story by clicking on the Icon