The Cazenovia girls track and field squad defeated Homer and Jordan-Elbridge on May 9 to raise their 2012 record to 9-0 and wrap up its third consecutive undefeated OHSL Liberty league championship campaign.
The Lakers outran Homer 104-37 and host J-E 101-40 to clinch the title and extend their three-year win streak to 27 meets. Two days later the girls broke three school records and two meet records as they achieved an impressive third place finish at the huge Oneida Invitational.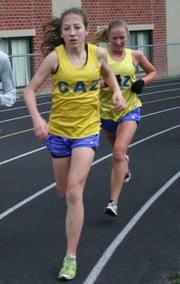 Captain Paige Biviano led the Lakers in their culminating regular season performance as she won four events. She captured the 100-meter hurdles in 16.2 along with the shot put (30-5.5), long jump (15-3) and high jump (5-0) to post 20 points for her team. Teammate Ashley Kent was close behind in the hurdles as she achieved personal bests in the 100-meter (17.0) and 400-meter (1:13.6) events. Jeanette Cudney and Colleen Stalder also ran bests in the 400 hurdles.
Ashley Winn added three wins of her own to pace the Laker sprinters, capturing the 100 (12.6), 200 (26.2) and anchoring the 4x100 (51.9) to victory. Kent and Captains Jillian Vogl and Anna Shultz helped the 4x100 to the win as Vogl also added a pair of seconds in the 100 (13.3) and 200 (26.8). Liz Pittman (13.8 in the 100) and Becky Marris (30.6 in the 200) helped the Lakers to a perfect 1-2-3 sweep of J-E while freshmen Lizzy Bigsby (67.5) and Grace Wheeler (69.9) both stepped up to score against the Eagles in the 400 dash.
Captain Caroline Marshall led the distance contingent with wins in the 1500 (4:53.7), 800 (2:28.7) and 4x800 while Cudney won the 3000 (11:04.3) and anchored the 4x800. Rae Tobey (11:18 in the 3000, 4x800), Margaret Wolsey (2:36 in the 800, 4x800), Michelle Karker (5:21.6 in the 1500 and 2:37.9 in the 800) and Tori Wright (third in the 3000) also excelled as the Lakers outscored the competition 55-9 in the distance events.
(Continued on Next Page)
Prev Next
Vote on this Story by clicking on the Icon