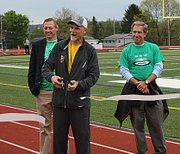 Manlius — As the sun began to set, the bright lights surrounding the Fayetteville-Manlius School District track matched the twinkle in the eyes of those who came May 9 to celebrate the track's official opening.
"We owe everyone who was part of this a big round of applause," said Brian Sischo, a member of the Fayetteville-Manlius Community Sports Facility Association, a nonprofit group of community members that paid for and coordinated the construction of the district's new all-weather synthetic turf field and the resurfaced track that surrounds the field.
The Fayetteville-Manlius Community Sports Facility Association donated the project to the school district. No district money was used for the field or track resurfacing project, which was complete in August.
The association raised more than $1.4 million, which covered both the cost of construction of the facility as well as the establishment of a $100,000 field replacement fund to be used when the turf needs to be replaced.
About a dozen residents took part in a "community mile" walk/run on May 9 to mark the track's official opening prior to the F-M varsity boys and girls track teams competition with the Oswego City School District. Luke FitzGibbons, of Fayetteville, was the first to complete the mile, crossing the finish line in 5 minutes and 40 seconds.
Vote on this Story by clicking on the Icon