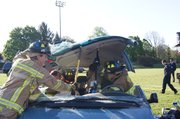 Camillus — Seniors preparing to leave for senior ball were joined by the junior class at West Genesee High School Friday morning for a simulated driving while intoxicated crash.
The two car crash was staged on the football field, showing the cars had collided. One student was ejected from the crash and died. One student was charged with driving while intoxicated.
While the scene was fictitious, Camillus Police and an Onondaga County Assistant District Attorney echoed the severity and impact of the crash -- and the likelihood of a similar crash happening to students during this celebratory time. The ADA read off a list of young people whose decisions killed another young person because of drinking and driving, and also read off their sentence to prison.
The crash, organized by the district, brought the Fairmount Fire Department, WAVES Ambulance, Camillus Police, Buranich Funeral Home, Myers Towing and the Onondaga County Medical Examiner and District Attorney's Office to the school.
For more photos, please visit the Eagle Observer Facebook page. You do not need an account to see the photos. The page is found at Facebook.com/TheEagleObserver.
Amanda Seef is an editor/reporter for Eagle Newspapers. She can be reached at aseef@eaglenewsonline.com or on Twitter, @AmandaSeef. She wrote a related column to mock DWI accidents here.
Vote on this Story by clicking on the Icon