Nineteenth century Broadway star May Irwin never wore blackface, but she was known far and wide as one of America's best-loved "coon shouters."
May Irwin, a Canadian native who began her stage career in Buffalo in 1874 and last performed on Broadway in 1922, spent her final decades in Upstate New York. During her 48-year career she summered in the Thousand Islands. She purchased Club Island which she dubbed Irwin Isle.
The term "coon shouter" was used to describe white female vocalists in the 1880s and '90s who specialized in singing "coon songs." Those wildly popular ditties of the day, composed both by black and white tunesmiths, typically featured lyrics in Negro dialect which carefreely caricatured African-American life set to the strains of ragtime tunes.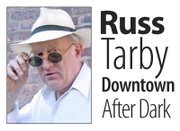 Although a well-known entertainer during her lifetime, May Irwin is all-but-forgotten now except as the actress who received the first filmed kiss in an 1896 short shot by Thomas Edison.
And next week, she'll be one of the subjects of a television documentary which explores her role in promoting Thousand Island salad dressing.
Singer liked salad
Eric J. Roberts, a Liverpool advertising expert with experience in television writing and production, and Andrea Reeves, a graphic designer who works at WCNY-TV, co-produced a documentary exploring the salad dressing's origin. Titled "The Mysterious Origin of Thousand Island Dressing," the one-hour doc will air on WCNY-TV Channel 24, at 9 p.m. Wednesday, May 16.
Roberts and Reeves consider three possible sources of the recipe:
–A maitre d' at New York City's Waldorf-Astoria hotel.
–The wife of a Clayton charter-boat captain.
–The chef at the Blackstone Hotel in Chicago, possibly inspired while vacationing in the Thousand Islands.
May Irwin, then one of the highest-paid performers on Broadway and a frequent visitor to the islands, may have had connections to each of these. It's said that some time around 1905 after she enjoyed the dressing at a restaurant near Clayton, Irwin gave the recipe to another Thousand Islands summer resident, George Boldt. As proprietor of the Waldorf-Astoria Hotel, Boldt instructed the hotel's maitre d', Oscar Tschirky – the same gastronomic genius who invented the Waldorf salad – to put Thousand Island dressing on the hotel's menu.
(Continued on Next Page)
Prev Next
Vote on this Story by clicking on the Icon