Baldwinsville — Literacy Volunteers of Oswego County recently received a boost to their book collection from Girl Scout Daisy Troop 10785 of the Baldwinsville School District.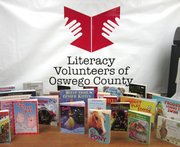 Each year, Girl Scouts are encouraged to use some of the money they earn from cookie sales toward a community service project. As Daisy Troop 10785 is made up of kindergarten and first graders who are learning to read, they chose Literacy Volunteers as the focus of their community project. Each of the 18 girls in the troop was given $10 to spend during a field trip to a bookstore.
"They took their jobs seriously and worked hard to purchase as many books as possible for their money," said their troop leader. "They did a very good job of choosing a variety of books."
Currently, more than 17,000 people, representing 20 percent of all adults in Oswego County, cannot read above a fifth grade level. LVOC's mission is to be a leader in providing adult learners the English communication and literacy skills they need to reach their full potential as individuals, parents, workers and citizens.
"We are honored to have the Girl Scouts select us as the recipient of their community service project," said Beth Kazel, Director of OCO's Education Services. "Their donation will have a positive impact on our work with adult learners."
Vote on this Story by clicking on the Icon